Introducing Victory Electrostatic Sprayers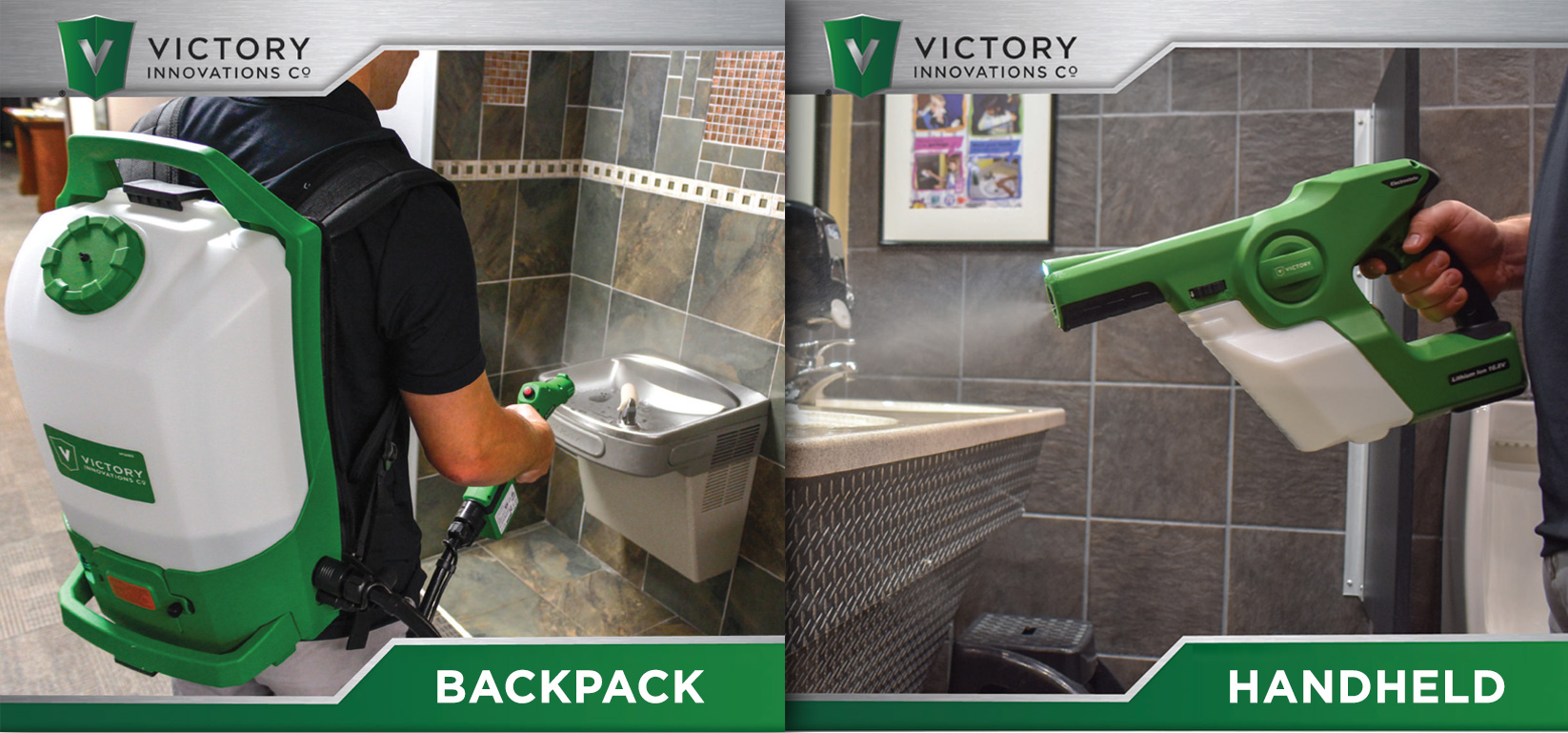 Professional Cordless Electrostatic Backpack or Handheld Sprayer
Ideal for Disinfecting, Sanitizing, Odour Removal, Decontamination, Pesticides/Fertilizing, and More!
Across a wide variety of industries there is a need for advanced technology that applies cleaning, coating and disinfectants more effectively, more efficiently and with greater convenience. Here are the reasons why the value of clean is worth taking a different approach:
Employees on average take 7.7 sick days per year

Costs in the USA total $2.25 Billion per year
Unplanned absences cause a 54% decrease in productivity and a 39% drop in customer service
Cleaning protocols can reduce common colds and influenza by 80%

Customers prefer cleanliness

94% of shoppers will avoid a business with a dirty restroom
In a restaurant, cleanliness is the number 1 item mentioned in satisfaction surveys
Consumers rank cleanliness number 1 in most important criteria for where to shop

Dirty schools increase costs and decrease reimbursements

Teachers average 5.3 sick days per year and must be replaced by subs
Students miss an average of 4.5 days decreasing federal funds by 2.5% per year
Cleaning protocols can reduce absenteeism by up to 46%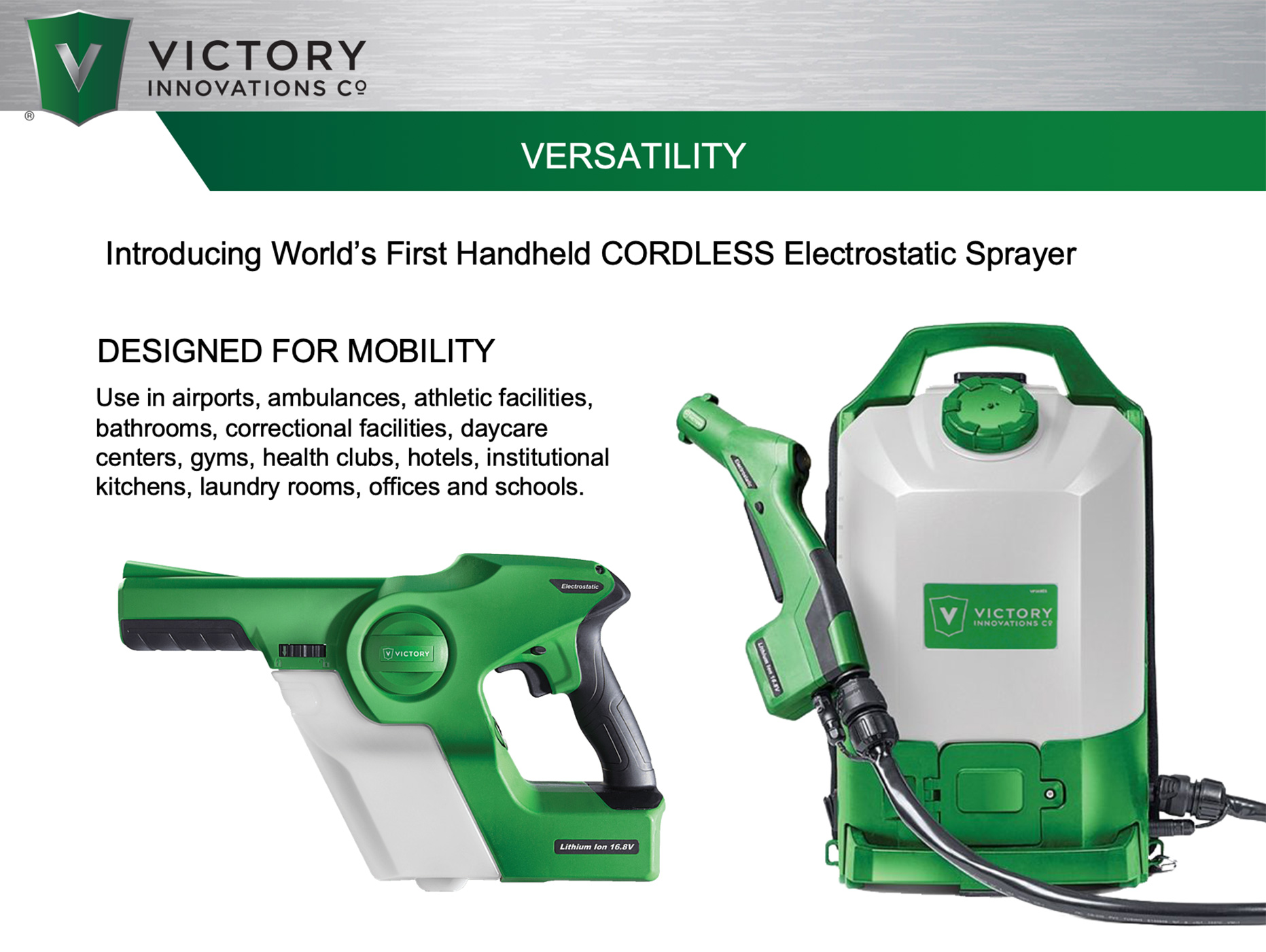 Features and Benefits of Electrostatic Application
TOUCHLESS APPLICATION
There is no need to touch or wipe the surfaces (dependent on solution spraying). This provides a fast and effective application method, while using less solution.
REDUCE CROSS CONTAMINATION
In most cases, a spray-and-wipe technique can move bacteria from one surface to another. Cross contamination can be considerably reduced due to the touchless effect of the Victory Sprayer.
LIQUID ADHESION & COVERAGE
Using the electrostatic sprayers will enable a quick and effective chemical application. As fully-charged droplets hit the surface they create an even spread. Particles hold their cationic charge for approx. 2-3 seconds - preventing drips. This allows the solution to cover hidden and shadowed areas, and also enables you to cover a large area in a small amount of time. These sprayers have been designed to meet dwell times for solutions so they can work to their full capabilities.
ELECTROSTATIC WRAPPING
When you spray a solution charged with electrostatics, the solution will wrap conductive surfaces. Victory Sprayers provide a patented system for broad and safe use.
PORTABILITY
Our Victory Sprayers are light weight, cordless, and can be easily taken anywhere!
EASY TO OPERATE
No gauges, cords, or compressors - our cordless Victory Sprayers have been designed to be used by anyone, with the use of simple switches and triggers. Simply fill up the tank, turn on the electrostatic switch, and pull the trigger.
COST EFFECTIVE AND EASY TO IMPLEMENT
Victory Sprayers are cost effective and easy to implement due to their versatility, portability, and effectiveness.
ECO FRIENDLY
Victory Sprayers give an eco-friendly approach to disinfection by spraying up to 65% less chemicals per square foot.
DWELL TIMES
Victory Sprayers' standard 3-in-1 nozzle allows the user to match particle size to the chemical's required dwell time.
Download printable information sheet